Focus - Discipline - Momentum
How to Get the Right Things Done NOW!
The FDM Mastery Group 90-day transformative learning program blends on-demand digital content capsules with in-person learning experiences to take your growth and results to the next level.
Expert Instruction: Learn from experienced professionals who have successfully navigated the challenges of maintaining focus in challenging environments.
Proven Techniques: Our tools combine practical experience and proven practices to help you develop the focus, discipline, and momentum required to excel in today's rapidly changing business world.
Collaborative Learning: Participate in engaging, collaborative, small group discussions designed to help you further develop and apply the practical skills you practice.
Practical Learning Plan: Developing skills, knowledge and experience using an action-learning approach for accelerated mastery (experiential + peer interaction + formal education).
Supportive Community: Connect with professionals facing common challenges and who "get it". Build a network of peers who will support your journey to greater growth through focus, discipline, and momentum beyond the program.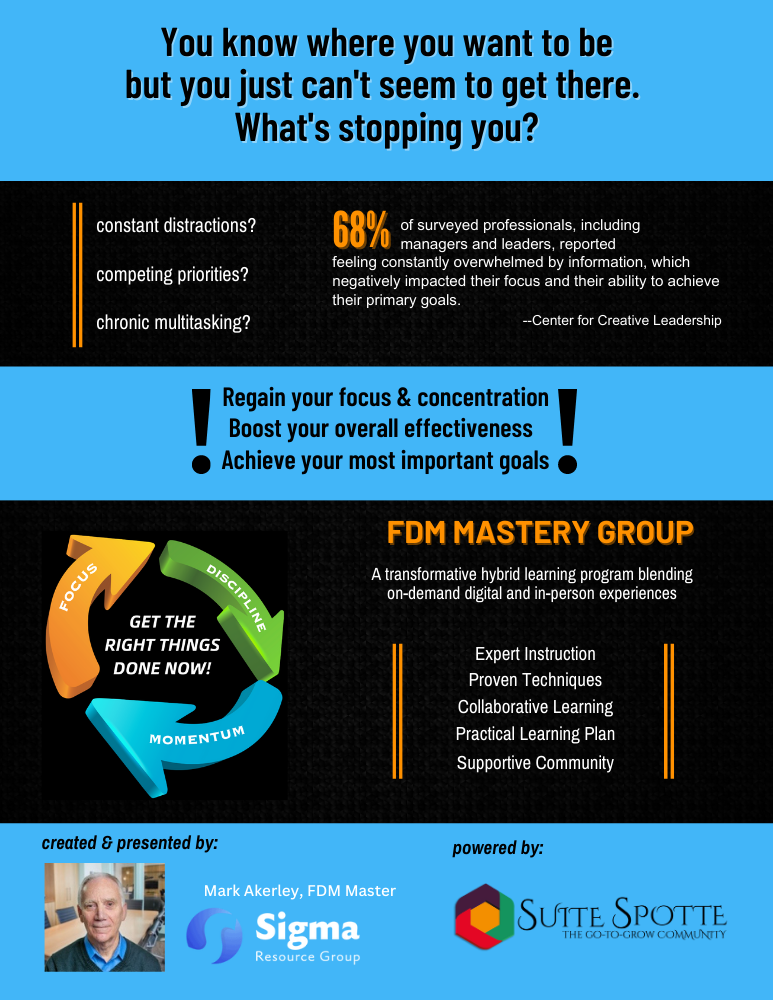 Mark Akerley (sigmanow.com) is a Strategic Advisor and Business Coach helping individuals and organizations make smarter decisions to grow and thrive. He works with small and large companies — listening, teaching, collaborating, guiding — to improve results. Focus, Discipline and Momentum is his mindset, and formula for success. Mark's powerful proprietary FDM formula has steered numerous leaders along a path to substantial growth.
FDM Mastery Group Schedule
Registration Closes: June 5th
1st Digital Capsule Release:          June 12, 2023
1st In-Person Group Session:        July 13, 2023
2nd Digital Capsule Release:        July 14, 2023
2nd In-Person Group Session:      August 17, 2023
Final Digital Capsule Release:      August 18, 2023
Final In-Person Group Session:    September 21, 2023
FDM Mastery Group Participant Fees
Early Adopter: 3 payments @ $750/each                                  Due prior to release of each capsule.
Total program commitment:  $2250                                    Includes 6 digital video-based, on-demand content capsules, 12 practice guides, 3 in-person collaborative small group sessions, access to a private FDM community Slack channel to keep in touch with fellow participants and your FDM Master, and between-session FDM Master coaching.
Neighborhood buzz about Suite Spotte...

Beautiful space, lovely owner, and so blissfully quiet but also nice to have other people working around me. I had an extremely productive workday. I rented a private office for the day but also look forward to trying the communal area.

Definitely a good spot if you need to work and/or do a bunch of calls. Not too busy, staff is super nice, and the phone booths help out a lot. Definitely suggest to those who need it.

I really enjoy having a place where I can work remotely in the western suburbs. Everyone I be met is courteous and respectful of each other's needs. It's a great place to get some heads down work done. Highly recommended!

Suite Spotte is such an innovative and creative space to work! If you're looking for a community of like-minded business owners and entrepreneurs, Suite Spotte is the place to go!

I came to Suite Spotte to escape the isolation of working from home every day. I was excited to see my focus and productivity improve too!

It was through one of Suite Spotte's HOT Seat sessions that we came together to solve a business problem that ultimately resulted in our partnership. Together we created and launched our highly successful on-demand version of Fluid Running which is now sold throughout the world.

Suite Spotte is a place of camaraderie where connections happen, ideas are stimulated, and belief is born. Thank you so much Suite Spotte!

Having Suite Spotte in our community has been a godsend for our organization, not only for the wonderful and professional work environment, but also for the ability to connect with other Suite Spotte members for feedback and support. Especially in these uncertain times, we are grateful for this space and network!

No corporate stuffiness here. Connecting in person or virtually with diverse people and the open-minded thinking at Suite Spotte creates great energy for me, which in turn improves my productivity — quality of worklife at its best!

The Focus Room is awesome!! Love the chair and standing desk. Allows for movement and is very comfortable. Good desk space and lighting.
Questions about plans, pricing, or availability? Let's find the right workspace for you.